All tastes are in nature!
Getting out of the city quickly in a home in harmony with nature is perfectly possible and accessible.
Our architects have patiently and carefully designed a dream world offering simple, functional and accessible living spaces.
Whether their choice is a cottage, mini-hull or condo, nature lovers will be delighted.
The Domaine Eskapad experience was prepared and designed in collaboration with skilled and recognized environmentalists.
Concerned about designing living spaces integrated with nature, our team of seasoned architects has always had only one goal: to allow you, without sacrificing comfort, to inhabit nature.
Our wide range of housing types always reflects our constant concern to literally immerse the occupant in nature.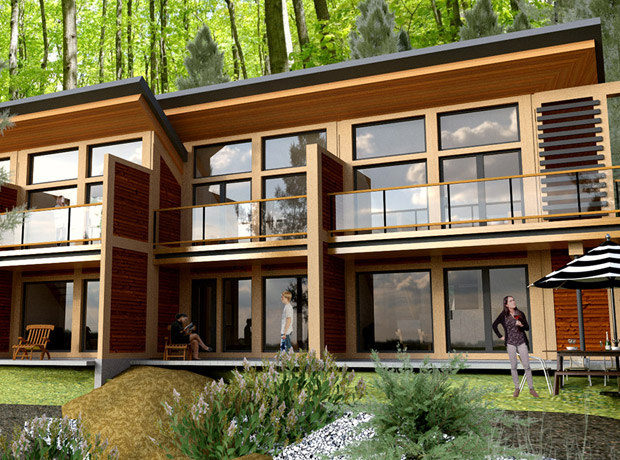 The choice of our constructor partners was made according to rigorous criteria including the capacity for innovation, the guarantee of high quality standards and the respect of our standards and values.
There are different types of homes available to you.
The regular chalets will be assembled on site, while the factory-built mini-cabins will be installed on your land.
81% of the natural space is preserved, an exceptional percentage in this sector of activity.